Steps for Submitting a GEO Zone Unlocking Request
Internet Connection For Your Controller Will Be Required
In order to fully complete these steps below and be ready to fly, you will need to connect your control to the internet, so it can sync up to the license you're provided.
1. Navigate to Fly Safe and Login to Your DJI Account
2. Unlock A Zone
Scroll down the page and click "UNLOCK A ZONE"
Unlock a GEO Zone
3. Click "Authentication Application"
4. User Center
If you have not requested an Unlock Request using the previous workflow, you will be redirected to the User Center to fill out information required for the Unlock Request.
For Drone Program Managers, creating an Organization account is the recommended option.

Fill in your basic information.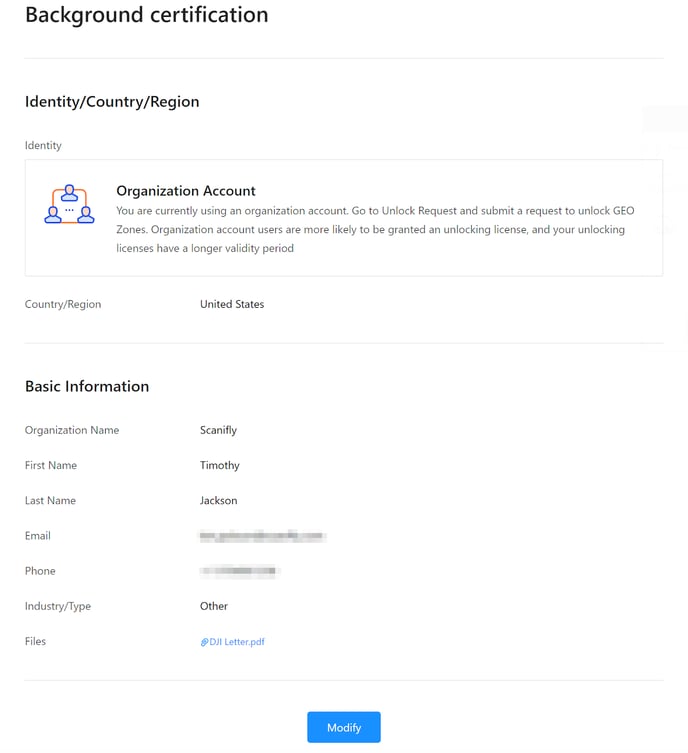 Attach the required file.
Upload a letter stating that drones are being used for commercial purposes on official letterhead and including a signature or official seal
The attachment should be no larger than 5 MB and in one of the following formats: .png, .jpg, .jpeg, or .pdf
Scanifly Example: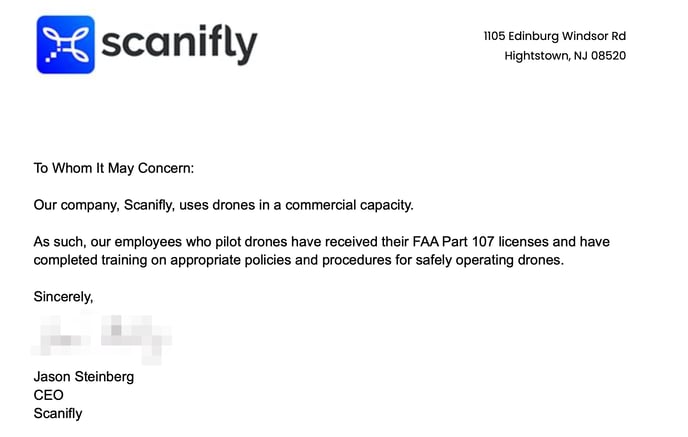 5. Complete Set Up and Proceed to Unlock Request
Once you fill out the Background certification, Device Management and Pilot Management sections, you will then be able to navigate back to the Unlock Request section by clicking on "Unlock Request" on the top navigation bar.
6. New Unlock Request
On the Unlock Request page, click the "New Unlock Request" button. You can also review the status of any existing requests on this page as well.
New Unlock Request
7. Unlocking Notice
You will then be presented with an Unlocking Request Notice that you must agree to in order to continue.
Unlocking Notice
8. Select Custom Unlocking OR Zone Unlocking
You will now need to select the type of Unlocking Request you would like to make. You can choose Custom Unlocking, which will allow you to draw the area you want to unlock on the map. Or, you can choose Zone Unlocking, which you can then choose an area from the GEO Zone map. Zone Unlocking is probably the most straightforward if you don't know the exact parameters of your flight.
Customer vs Zone Unlocking
9. Zone Unlocking
The User making the request will have their information populated, then they will need to select the device and pilot that the request is for.
Next, you will click on the map to select the zone(s) you would like to unlock.
12. Review Status
You will then be redirected back to the Unlock Request page to view the status of your request.
13. Applying Your License to DJI Flight App
Last, you should receive a confirmation email, then it is time to navigate to your controller and DJI Flight App (DJI Go 4, DJI FLY, etc.) to complete the unlocking process. For steps on unlocking via your particular DJI Flight App, please go here.